Consider Your Outdoor Patio Space
One of my tips is to measure your patio space before you ever buy Wicker Furniture. If you have an idea of how much space you have for the actual furniture pieces, it becomes easier to do your research and buy.
If your garden is compact – perhaps where you spend a few minutes catching some rays – then a few wicker sun loungers would be a good bet.
If you have a smaller outside space, look for a compact wicker furniture set of just several chairs with cushions and a smaller accent table rather than a large sectional or dining set.
Find the Right Color
You want to choose a color scheme that blends perfectly with the surroundings. For instance if your garden is modern with pastel colors then light colored outdoor wicker furniture can be a great addition. Remember, the accent colors can always be achieved with some decorative pillows which you can use to add a bit of color to the place (especially when you have guests). Alternatively, if you are fairly traditional and your garden is full of greenery then a solid dark green set of furniture can be a great addition.
Some Color Tips
*White colored wicker furniture will give your outdoor area an iconic look with some old-fashioned touch
*Darker colored furniture is a good choice if you live in an area that receives a lot of rain, and it tends to be more modern
*Reddish-brown furniture gives the backyard a laid-back feel
*Green color adds a traditional or contemporary feel to your outdoor
Remember Durability
If you live in an area where rain and snow are common occurrences, man-made wicker is suitable. Resin furniture is known for being resistant to fading and besides that it does not crack even when exposed to extreme cold or heat. It is also a wise idea to go for furniture sets that have aluminum frames – these are a safer bet than the natural wicker pieces which tend to get damaged or grow brittle over time.
Pick a Theme
Furniture is more than just furniture – it is a tool of communication. It communicates our beliefs, passion and way of life. Outdoor wicker furniture is no exception to this rule and you can use it to transform your outdoor into a reflection of your own feelings.
For example, if you are one of those people who value simplicity then you can group up a few armchairs and loveseats. On the other hand, if you are always yearning for a touch of sophistication, then you can mix the colors a little bit and bring a few more creative designs and shapes. If you are looking to achieve a modern look, then you can think of going for outdoor furniture sets with angular, boxy shapes. Alternatively, if you are a bit old school and you want to bring that antique feeling right to your door steps then you can choose chairs, side tables and even rocking chairs with smooth rounded edges.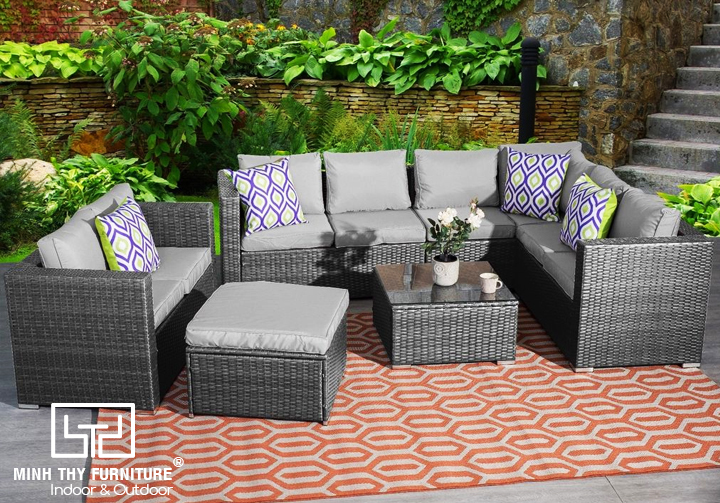 In Conclusion
Generally, outdoor wicker furniture is loved by many because of its weight, durability and classic design. In order to find a combination or selection that suits your unique needs, it is imperative to pay attention to the tiny little details that matter. Come to visit Minh Thy Furniture Showroom, 248 Ly Thuong Kiet Street, Ward 14, District 10 to choose the best suitable furniture for your space.